Groenten en fruit
Biologische groenten en fruit staan altijd met hun wortels in de grond. Ook in de kasteelt. De wortels zoeken in de grond naar voedingsstoffen waardoor ze zich tot sterke planten ontwikkelen.
De biologische boer gebruikt geen kunstmest, maar natuurlijke mest om de bodem vruchtbaar te maken. En geen chemische middelen, maar de natuurlijke vijand zoals lieveheersbeestjes om luizen in toom te houden.
De gewassen krijgen vaak meer tijd om te groeien, wat de smaak en kwaliteit ten goede komt.
- See more at: http://www.bionext.nl/content/groente-fruit#sthash.mRAyYies.dpuf
Gezonde bodem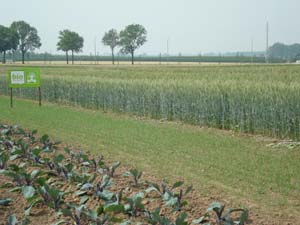 Om de bodem gezond te houden gebruikt de biologische boer dierlijke mest en compost dat zorgt voor een gezonde, levende bodem. Zo bevat het veel meer biodiversiteit. En om plagen te voorkomen doet men aan vruchtwisseling: dit betekent (kort gezegd) dat elk stukje land elk jaar voor een ander gewas wordt gebruikt. (Zie ook: Bodemvruchtbaarheid, met mooie verhalen van boeren en tuinders.)
Door deze 'vruchtwisseling' krijgen luis of rupsen niet de kans om zich tot een plaag te ontwikkelen. En mocht dat wel gebeuren, dan gaan hun natuurlijke vijanden ze te lijf. Lieveheersbeestjes en vogels helpen de boer om luizen of rupsen in toom te houden.
- See more at: http://www.bionext.nl/consument/wat-is-biologisch/groenten-en-fruit/gezonde-bodem#sthash.h4H4AxGd.dpuf